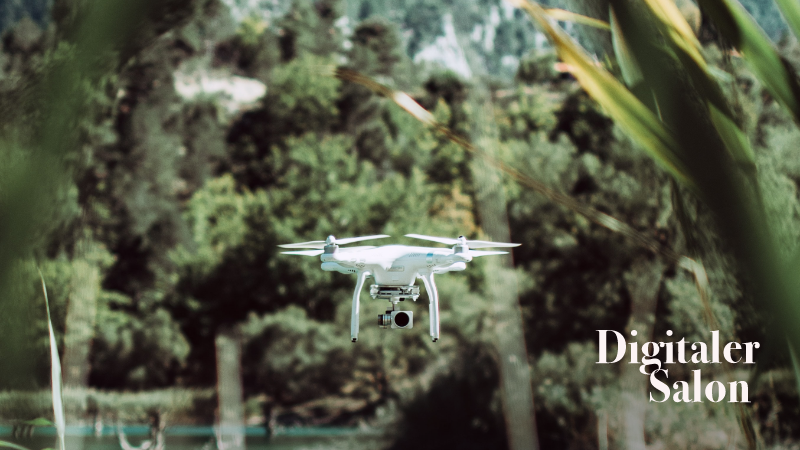 Digitaler Salon: Green Surveillance
Once a month, we publicly discuss the impact of digitisation on society at Digitaler Salon. We invite special guests, engage in a dialogue with the audience and the Twitter community and broadcast it on YouTube. In the January issue of the Digital Salon, we discuss digital solutions for the protection and rebuilding of forests. Below you will find more detailed information. The event will be held in German.
Wälder sind nicht nur der vielfältigste Lebensraum für die Tierwelt, sondern auch der Produzent unserer Atemluft und somit auch wichtigster Partner im Kampf gegen den Klimawandel. Unzählige Rodungen und Abholzungen nehmen uns die Luft zum Atmen und geben das in den Bäumen gespeicherte CO2 zurück in die Atmosphäre. Wie können wir verbleibende Wälder schützen und zerstörte wieder aufzubauen? Mithilfe existierender Technologien können Eingriffe in Wälder überwacht, gemeldet und vorhergesagt werden, um der zunehmenden Entwaldung Einhalt zu gebieten. Doch wie können digitale Lösungen nachhaltig implementiert werden, ohne dabei selbst einen CO2-Fußabdruck zu hinterlassen? Die n​​otwendige Infrastruktur geht oft mit einem hohen Ressourcenverbrauch einher und daher fragen wir uns in der Januar-Ausgabe des Digitalen Salons, ob ein digitaler Weg den Schutz der Wälder garantieren kann?
Digitaler Salon: Green Surveillance
25. Januar 2023 | HIIG & Livestream | 19:00 Uhr
Einlass: 18:30 Uhr
Bookings
Eine Anmeldung ist für diese Veranstaltung aktuell nicht möglich.
Event Newsletter
Sign up for our newsletters and be the first to learn about new events and exciting research results.
This high-profile lecture series thrives to develop a European perspective on the processes of transformation that our societies are currently undergoing.
Once a month we publicly discuss the impact of digitalisation on the society. Therefore we invite special guests and engage in a dialogue with the audience