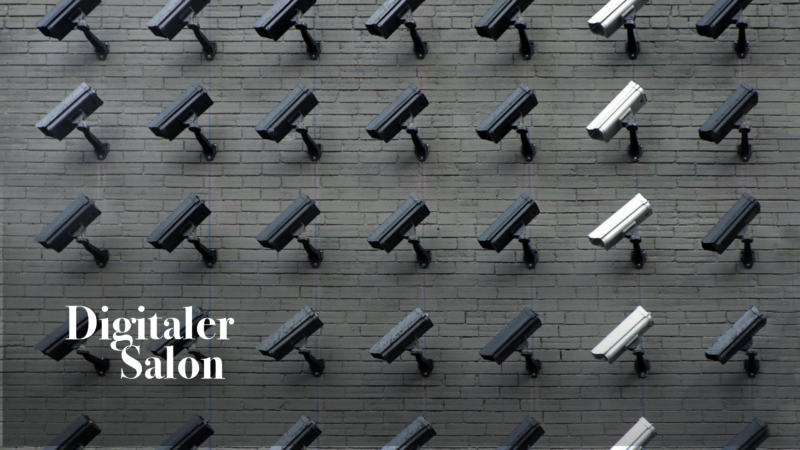 Digitaler Salon: Frozen Eye
Once a month, we publicly discuss the impact of digitisation on society at Digitaler Salon. We invite special guests, engage in a dialogue with the audience and the Twitter community and broadcast it on YouTube. In the September issue of the 'Digitaler Salon', we discuss the pros and cons of face recognition software in public surveillance and if there is way to balance individual freedom and privacy with public safety . Below you will find more detailed information. The event will be held in German.
Die Zukunft der Gesichtserkennung im öffentlichen Raum
Eigentlich ist die großflächige Überwachung des öffentlichen Raums für die EU längst vom Tisch, doch angesichts der Olympischen Spiele in Paris 2024 flammt die Debatte aktuell wieder auf. Stichworte wie Terrorismusbekämpfung, Vermisstensuche und 'nationale Sicherheit' sollen hier den Einsatz von Kameras und Gesichtserkennungssoftware vermeintlich rechtfertigen. Doch die Risiken für unsere Privatsphäre sorgen in vielen Ländern für gemischte Gefühle und große Bedenken. Wie gut sind die KI-Modelle hinter der Linse und können wir ihren Entscheidungen Vertrauen schenken? Wie werden bei der Überwachung von öffentlichen Räumen die Rechte von Einzelpersonen, aber auch die Interessen der Gemeinschaft geschützt? Heiligen die Mittel hier den Zweck? Sind Länder wie England und China Vorreiter oder Orwell'sche Warnsignale? In der September-Ausgabe des Digitalen Salons entpixeln wir den Big Brother-Mythos und diskutieren, ob und wo Gesichtserkennung in der Überwachung unserer Gesellschaft eingesetzt werden sollte.
Digitaler Salon: Frozen Eye
27. September 2023 | HIIG & Livestream | 19:00 Uhr
Einlass: 18:30 Uhr
This high-profile lecture series thrives to develop a European perspective on the processes of transformation that our societies are currently undergoing.
Once a month we publicly discuss the impact of digitalisation on the society. Therefore we invite special guests and engage in a dialogue with the audience.