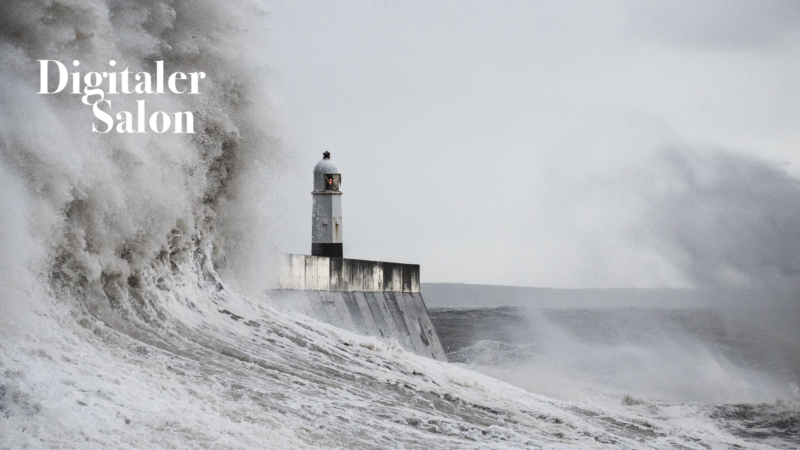 Digitaler Salon: Faktenfieber
Once a month, we publicly discuss the impact of digitisation on society at Digitaler Salon. We invite special guests, engage in a dialogue with the audience and the Twitter community and broadcast it on YouTube. In the May issue of the Digital Salon, we discuss what are the consequences of hostility towards science and how to support affected scientists. Below you will find more detailed information. The event will be held in German.
Wissenschaft als Fels in der Brandung des Unwissens
Fakten können wehtun: insbesondere, wenn sie pessimistische Prognosen ergeben, falsche Aussagen widerlegen und politische Entscheidungen infrage stellen. Ganze Forschungszweige wie die Klima- oder Medizinforschung werden deswegen immer wieder  zur Zielscheibe von Hass und Kritik. Die einzelnen Forschenden sind dabei oft unvorbereitet auf die Gefahren, die eine öffentliche Kommunikation in den Medien mit sich bringt. Gleichzeitig erwarten wir  immer mehr von ihnen, dass sie sich in öffentliche Diskurse einmischen und uns ihre Erkenntnisse zur Verfügung stellen. Denn wir brauchen die Wissenschaft, um uns in gesellschaftlichen Krisensituationen zu orientieren und Lösungen zu finden. Gehört es also mittlerweile einfach zum Job von Wissenschaftler*innen, sich populistischen Kontroversen, Drohungen und verbalen Angriffen auszuliefern? Wie unterscheidet sich Wissenschaftsfeindlichkeit von anderen Formen von Feindlichkeit? Wie können sich Forschende schützen, um widerstandsfähig zu werden und weiter uneingeschränkt forschen zu können? Was brauchen wir, um die öffentliche Debatte zurück auf den Boden der Tatsachen zu bringen?
Digitaler Salon: Faktenfieber
31. Mai 2023 | HIIG & Livestream | 19:00 Uhr
Einlass: 18:30 Uhr
This high-profile lecture series thrives to develop a European perspective on the processes of transformation that our societies are currently undergoing.
Once a month we publicly discuss the impact of digitalisation on the society. Therefore we invite special guests and engage in a dialogue with the audience.