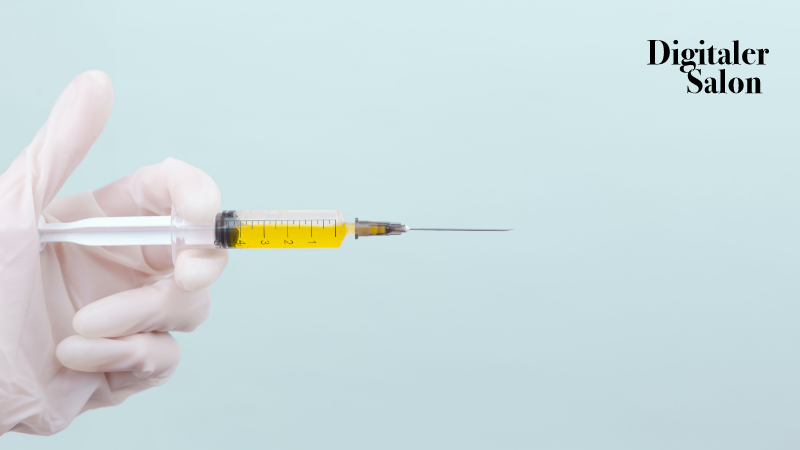 Digitaler Salon: Digital Hell's Care?
Once a month, we publicly discuss the impact of digitisation on society at Digitaler Salon. We invite special guests, engage in a dialogue with the audience and the Twitter community and broadcast it on YouTube. In October, we will talk about digital healthcare. Below you will find more detailed information. The event will be held in German.
Eine alternde Bevölkerung, steigende Patient*innenzahlen, schwindende Pflegefachkräfte, hohe Belastung in Gesundheitsberufen und zunehmende Kosten stellen Risiken für Gesundheitssysteme weltweit dar. Gleichzeitig entstehen fortschrittlich medizinische Behandlungsmöglichkeiten und es gibt zahlreiche Ansätze, den genannten Risiken zu begegnen. Einen entscheidenden Faktor sollen dabei Digitalisierungsprozesse spielen. Doch können diese wirklich eine Lösung für das Problem liefern? Wo stehen wir, wenn es um die Digitalisierung des Gesundheitssystems geht? Sind die Gesundheitsämter mittlerweile vernetzt? Werden Video-Sprechstunden, E-Rezepte und die digitale Patientenakte tatsächlich genutzt? Und wie wirken sich diese Anwendungen auf Pfleger*innen und Patient*innen aus?
Digitaler Salon – Digital Hell's Care?
27.10.2021 | HIIG & Livestream | 19.00 Uhr
Einlass: 18:30
Die Moderatorin Katja Weber (radioeins, Deutschlandfunk Nova) diskutiert unter anderem mit:
Dr. Valerie Kirchberger, Chief Medical Officer und Co-Geschäftsführerin beim Startup Heartbeat Medical, welches sich auf Value-based Healthcare, der Ausrichtung medizinischer Versorgung auf patientenzentrierte Behandlungsqualität spezialisiert hat
Prof. Dr. Ehsan Khaljani, Professor für Digital Health Management an der Medical School Berlin. Neben seiner Ausbildung als Facharzt für Urologie ist er an der Entwicklung zahlreicher digitaler Gesundheitsprojekte beteiligt.
Jenny Kuhnert, Fachkrankenschwester für Anästhesie und Intensivmedizin und Pflegeaktivistin. Arbeitet seit 2009 als examinierte Gesundheits- und Krankenpflegerin im intensivstationären Setting. Sie ist außerdem Mitglied im Bochumer Bund und beim Deutschen Berufsverband für Pflegeberufe.
Die Einführung übernimmt Christoph Gerling. Als wissenschaftlicher Mitarbeiter am HIIG in der Forschungsgruppe "Innovation, Entrepreneurship & Gesellschaft" gestaltet er innerhalb der Initiative "Digital Urban Center for Health & Aging" (DUCAH) ein Lern-Quartier zur Entwicklung und Erprobung neuer Gesundheitslösungen.
Das aktuelle Whitepaper von DUCAH bietet einen Überblick über den momentanen Stand der Forschung zum Thema "Altern am Ort" sowie die Bandbreite der Lösungen, die den verschiedenen Stakeholdern zur Verfügung stehen. Zentrale Erkenntnis ist, dass es eines Perspektivwechsels bedarf, der die alltäglichen Bedürfnisse von Menschen in den Mittelpunkt technischer Entwicklung stellt.
Wir freuen uns eine begrenzte Anzahl an Gästen vor Ort begrüßen zu können. Ab 19.00 Uhr wird die Sendung zusätzlich live auf hiig.de übertragen. Dann heißt es mitmachen – per Twitter oder Slido via #DigSal. Der Digitale Salon findet jeden letzten Mittwoch im Monat unter einer anderen Fragestellung statt. Aufzeichnungen vergangener Digitaler Salons und mehr Informationen finden Sie hier.
Hinweis: Der Einlass erfolgt nur für angemeldete Personen, die tagesaktuell getestet, geimpft oder genesen sind. Um mögliche Infektionsketten nachverfolgen zu können sind wir aufgrund der SARS-CoV-2-Infektionsschutzverordnung verpflichtet eine Anwesenheitsdokumentation zu erstellen, dazu werden über das Anmeldeformular der Website Kontaktdaten erhoben. Weitere Hinweise dazu finden Sie in unserer Datenschutzerklärung. In den Räumen des Instituts ist außerhalb des eigenen Sitzplatzes eine Mund-Nasen-Bedeckung zu tragen. Es gilt ein Mindestabstand von 1,5 Metern für alle Besucher*innen. Besucher*innen sollen bei Erkältungssymptomen und Fieber die Veranstaltung nicht besuchen.
Die Registrierung für die Veranstaltung ist ab dem 20. Oktober möglich.
This high-profile lecture series thrives to develop a European perspective on the processes of transformation that our societies are currently undergoing.
Once a month we publicly discuss the impact of digitalisation on the society. Therefore we invite special guests and engage in a dialogue with the audience.