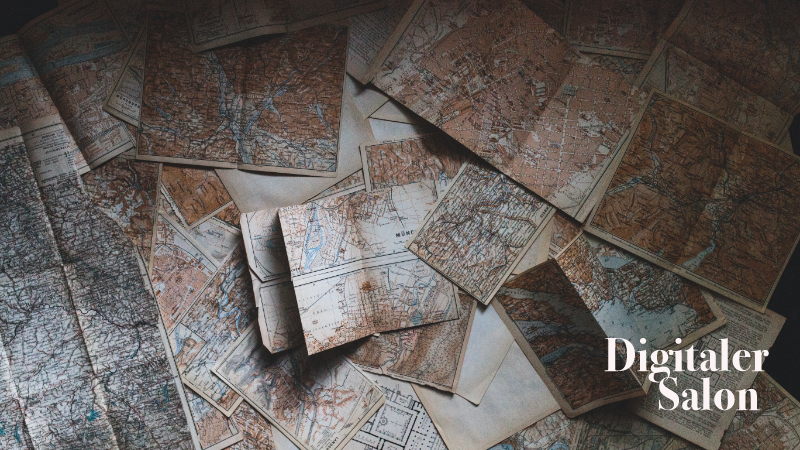 Digitaler Salon: Diese Karte ist nicht verfügbar
Once a month, we publicly discuss the impact of digitisation on society at Digitaler Salon. We invite special guests, engage in a dialogue with the audience and the Twitter community and broadcast it on YouTube. In July, we are discussing the importance of digital maps and whose world views dominate, and what power structures become visible in the maps of our everyday lives? Below you will find more detailed information. The event will be held in German.
Von Routenplanung und Navigation bis hin zur Erkundung von Landflächen und Ländern – interaktive Karten und ihre Interfaces sind mittlerweile fester Bestandteil unseres Lebens. Sie "leiten" uns von A nach B, schlagen uns barrierefreie Wege vor oder visualisieren Daten und Weltbilder – mit ihren Grenzen. Auch wenn Grenzen vermeintlich "fix" erscheinen, so können sie je nach politischer Lage und Perspektive deutlich variieren. Karten repräsentieren politische Sichtweisen und werfen spezifische und subjektive Perspektiven auf einen Bereich. Sie offenbaren in ihren Darstellungen das Verhältnis zur Umwelt und die eigene Platzierung in dieser. Dabei sind sie ein wesentliches Maß unseres Alltags, definieren den politischen und rechtlichen Wirkungsraum – auch im Digitalen! Wessen Weltbilder dominieren und welche Machtstrukturen werden in den Karten unseres Alltags sichtbar? Welche Ansprüche werden an Anbieter wie Google, Apple oder OpenStreetMap gestellt und wie werden sie diesen gerecht?
Digitaler Salon: Diese Karte ist nicht verfügbar
27. Juli 2022 | HIIG & Livestream | 19:00 Uhr
Einlass: 18:30 Uhr
Bookings
Eine Anmeldung ist für diese Veranstaltung aktuell nicht möglich.
This high-profile lecture series thrives to develop a European perspective on the processes of transformation that our societies are currently undergoing.
Once a month we publicly discuss the impact of digitalisation on the society. Therefore we invite special guests and engage in a dialogue with the audience.