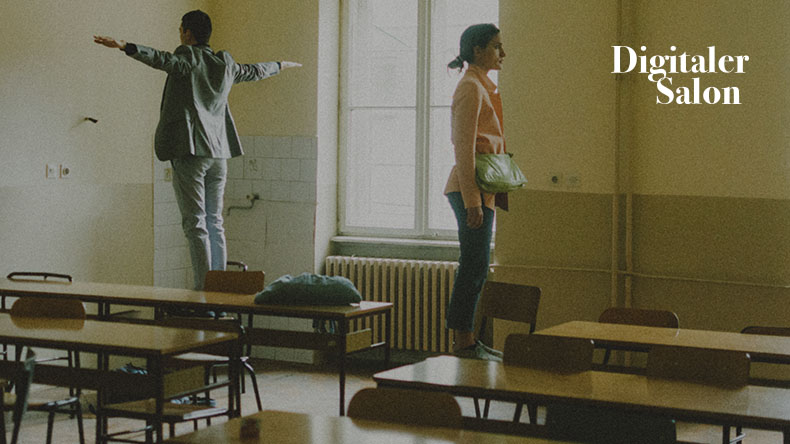 Digitaler Salon: Das zoomende Klassenzimmer
Once a month, we publicly discuss the impact of digitisation on society at Digitaler Salon. We invite special guests, engage in a dialogue with the audience and the Twitter community and broadcast it on YouTube. In January, we will talk about education and digitalisation. The talk will be held in German. Below you will find more detailed information in German.
Tablet statt Buch, Schulcloud statt Schulhof, Hausaufgaben über WhatsApp, Cybermobbing statt Schubserei auf dem Schulhof? Wie war Schule im Jahr 2020, und was bringt 2021: Kickstart ins digitale Lernzeitalter, oder eher ein Rückschritt?

Der DigitalPakt sollte die Schulen auf den neuesten Stand der Technik bringen. Nachdem Bildungseinrichtungen den Präsenzunterricht einstellen mussten, zeigt sich inwiefern digitales Lernen und Lehren in Deutschland funktioniert. Die Situation legt auch soziale Ungleichheiten offen. Wer besitzt funktionsfähige Geräte und kann am Unterricht teilnehmen? Wie steht es um die digitale Infrastruktur und technische Ausstattung an den Schulen? Welche "Skills"  benötigen sowohl Lehrer*innen als auch Schüler*innen, um digitale Lehrmaterialien zu nutzen? Und: Wie zukunftsfähig ist diese Form des Lernens angesichts zukünftiger Herausforderungen?
Digitaler Salon – Das zoomende Klassenzimmer
27.1.2021 | Livestream | 19.00 Uhr

Die Moderatorin Katja Weber (radioeins, Deutschlandfunk Nova) diskutiert mit:
Luisa Regel,

sie ist seit Januar die neu gewählte Referentin für Öffentlichkeitsarbeit des

LSA Berlin

(Landesschüler*innenausschuss) und besucht die 13. Klasse der Kurt-Schwitters-Schule in Pankow. 

Anne Sliwka,

Professorin am

Institut für Bildungswissenschaft

der Universität Heidelberg. Sie forscht über

Schul- und Schulsystementwicklung

sowie Lehrerprofessionalität in international-vergleichender Perspektive.

Michael Merz, Vorstandsmitglied beim Verein cyber4EDU, wo er sich  für die Aufklärung und Sensibilisierung rund um das Thema Datenschutz an Schulen einsetzt. Gemeinsam mit der SenBJF waren sie dabei beteiligt, BigBlueButton als Videokonferenz-Tool für den Berliner Lernraum einzuführen.
Die Einführung übernimmt Moritz Timm, am HIIG ist er wissenschaftlicher Mitarbeiter im OrA-Projekt, das die Digitalisierung der Hochschulbildung untersucht sowie Teil des Kommunikationsteams. 
From 7 pm the talk will be broadcasted live on hiig.de. Then join in – via Twitter or Slido using #DigSal. Digitaler Salon takes place every last Wednesday of the month under a different question. Records of past events and more information can be found here. 
This high-profile lecture series thrives to develop a European perspective on the processes of transformation that our societies are currently undergoing.
Once a month we publicly discuss the impact of digitalisation on the society. Therefore we invite special guests and engage in a dialogue with the audience.