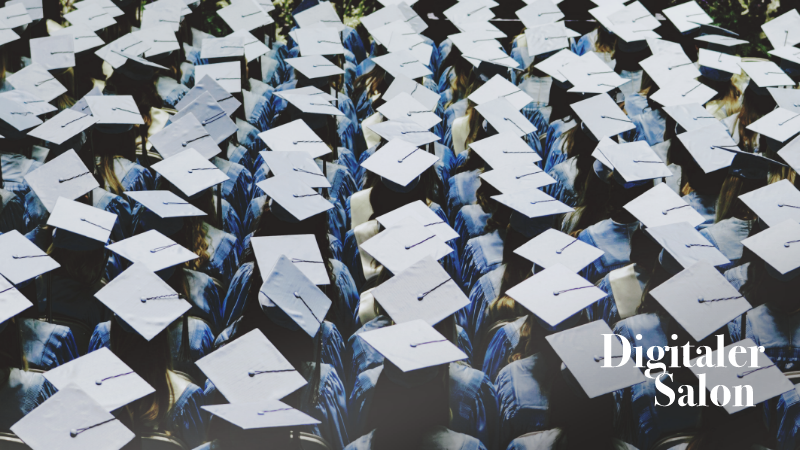 Digitaler Salon: Chatbot potentia est!
Once a month, we publicly discuss the impact of digitisation on society at Digitaler Salon. We invite special guests, engage in a dialogue with the audience and the Twitter community and broadcast it on YouTube. In the February issue of the Digital Salon, we discuss what kind of impact Chatbots will have on education in the future. Below you will find more detailed information. The event will be held in German.
Individuelles Handeln, kreatives und lösungsorientiertes Denken, wissenschaftliche Kompetenzen – werden diese menschlichen Eigenschaften möglicherweise bald komplett von einem Chatbot übernommen? Basierend auf Milliarden von Datensätzen aus dem Jahr 2021 generiert ChatGPT Antworten auf fast jede erdenkliche Frage. Aber was bedeutet das für die eigenständige Erarbeitung von Wissen? Und wie wird das den Lehr- und Lernprozess beeinflussen? Heißt es bald "Alexa, schreib meine Bachelorarbeit"? Viele Universitäten reagieren prompt und kehren zu Papier und Stift zurück. Welchen Vorteil kann analoge Bildung noch bieten und welche Kompetenzen wird es zukünftig (noch) brauchen? Warum wir ChatGPT vielleicht mit Vorsicht genießen sollten und wie wir mit trainierten Biases und falschen Daten in Zukunft umgehen müssen, diskutieren wir in der Februar-Ausgabe des Digitalen Salons.
Digitaler Salon: Chatbot potentia est!
22. Februar 2023 | HIIG & Livestream | 19:00 Uhr
Einlass: 18:30 Uhr
This high-profile lecture series thrives to develop a European perspective on the processes of transformation that our societies are currently undergoing.
Once a month we publicly discuss the impact of digitalisation on the society. Therefore we invite special guests and engage in a dialogue with the audience.