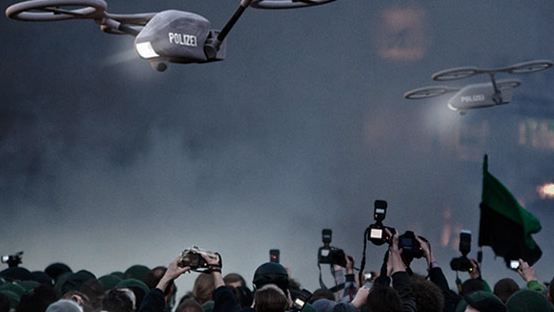 Digitaler Salon: Catch me if you scan | Talk
Once a month we publicly discuss the impact of digitalisation on the society. Therefore we invite special guests, engage in a dialogue with the audience and the Twitter-community and finally broadcast it on YouTube. The event in March deals with crime & AI: Preventing crimes before they were committed: Could algorithms and big data possibly lower the level of crime, and what price are we willing to pay for security? Below you will find more detailed information on Digitaler Salon in German.

Catch me if you scan: Verbrechen verhindern, bevor sie begangen werden: Können Algorithmen und Big Data die Kriminalitätsrate senken und was ist uns Sicherheit wirklich wert?
Die Cops der Zukunft sind mit künstlicher Intelligenz ausgestattet. Gesichtserkennung und mit Polizeidaten gefütterte Algorithmen versprechen, zukünftigen Einbrechern auf die Spur zu kommen und gewaltbereite Menschen ausfindig zu machen. Die Verheißung ist groß, doch kann Predictive Policing – Polizeiarbeit auf Basis von Verbrechensprognosen – die Kriminalitätsrate wirklich senken? Neben Datenschutzbedenken drängt sich die Frage auf, wer davon profitiert und wer darunter leidet. Die Datensätze sind unvollständig und einfach zu manipulieren. In den USA sieht man bereits, dass Algorithmen teilweise, rassistische und diskriminierende Strukturen verstärken. Können in Deutschland überhaupt ähnliche Zustände herrschen? Und was passiert mit unserer Gesellschaft, wenn die Unschuldsvermutung nicht mehr höchstes rechtliches Gut ist? Wollen wir in einer solchen Präventionsgesellschaft leben?
Digitaler Salon – Catch me if you scan
28.03.2018 | 19.00 Uhr | HIIG | Französische Straße 9 | 10117 Berlin
Moderatorin Teresa Sickert diskutierte mit:
In das Thema leitete Adrian Haase, assoziierter Doktorand am Alexander von Humboldt Institut für Internet und Gesellschaft, ein.
Der Digitale Salon öffnet ab 18:30 Uhr seine Türen. Ab 19:00 Uhr wird die Sendung live auf hiig.de übertragen. Dann heißt es mitmachen – vor Ort und per Twitter via #DigSal. Der Digitale Salon findet jeden letzten Mittwoch im Monat unter einer anderen Fragestellung statt. Aufzeichnungen vergangener Digitaler Salons und mehr Informationen finden Sie hier. Für einen barrierefreien Zugang geben Sie bitte an der Klingel Bescheid.
Foto: Christian Lendl – Photography/UnterDrohnen

Event Newsletter
Sign up for our newsletters and be the first to learn about new events and exciting research results.
This high-profile lecture series thrives to develop a European perspective on the processes of transformation that our societies are currently undergoing.
Once a month we publicly discuss the impact of digitalisation on the society. Therefore we invite special guests and engage in a dialogue with the audience