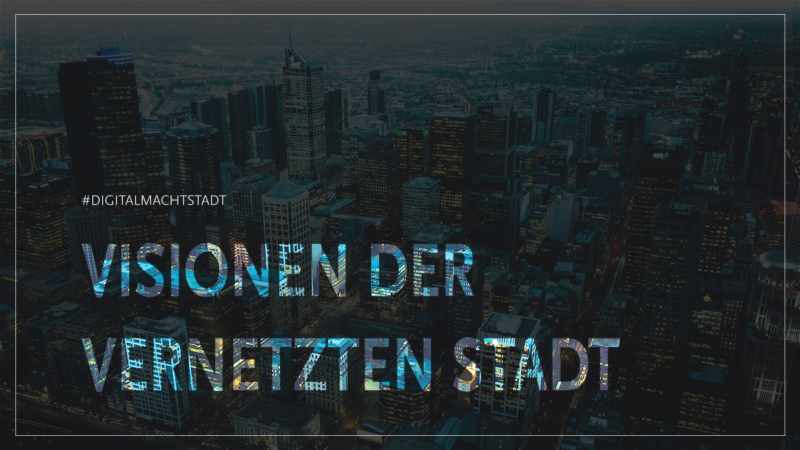 digital macht stadt – Visionen der vernetzten Stadt
On 20th February, a panel discussion on future visions and narratives for the technological transformation of cities will take place at the Alexander von Humboldt Institute for Internet and Society (HIIG). The event will take place in German, below you find more detailed information. It is part of the series "digital macht stadt", a cooperation of Hybrid Space Lab and HIIG. 
digital macht stadt – Visionen der vernetzten Stadt

Donnerstag, 20.02.2020 | 19:00 Uhr | Einlass ab 18:30 Uhr
HIIG | Französische Straße 9 | 10117 Berlin
Zukunftsvisionen und gesellschaftliche Narrative haben einen großen Einfluss auf konkrete technische Entwicklungen und unsere gebaute Umwelt. Insbesondere im Bereich der Stadtplanung spielen dabei Leitbilder und Visionen eine entscheidende Rolle. Von den historischen Plänen für ein Groß-Berlin, bis hin zu aktuellen Smart City Narrativen.
Es ist daher von entscheidender Bedeutung zeitgemäße, stadttechnologische Visionen und Modelle zu verstehen, zu rahmen und in die Geschichte der Urbanisierung und der Entwicklung von Stadtkonzepten einzuordnen. Dabei müssen die sozialen Dimensionen städtischer Technologiekonzepte mitgedacht werden und in ganzheitlichen Planungsansätzen integriert werden. 

Welche Zukunftsvisionen und Narrative prägen aktuelle Smart City Technologien? Für welche Zielgruppen werden städtische Technologiekonzepte entwickelt und wie wirkt sich eine vernetzte Stadt auf die sozialen Beziehungen ihrer Bewohner*innen aus?
Der Moderator Benjamin Knödler (der Freitag) diskutiert mit:
Isabella Hermann (BBAW)
Melanie Humann (TU Dresden) 
Elke Plate (Senatsverwaltung für Stadtentwicklung und Wohnen)
Rosa Thoneick (HCU Hamburg)

Die Veranstaltung "Visionen der vernetzten Stadt" ist Teil der Reihe digital macht stadt, die als Kooperationsprojekt des Hybrid Space Lab und des Alexander von Humboldt Instituts für Internet und Gesellschaft (HIIG) die aktuellen Entwicklungen an der Schnittstelle von Städten und digitalen Technologien untersucht.
This high-profile lecture series thrives to develop a European perspective on the processes of transformation that our societies are currently undergoing.
Once a month we publicly discuss the impact of digitalisation on the society. Therefore we invite special guests and engage in a dialogue with the audience.