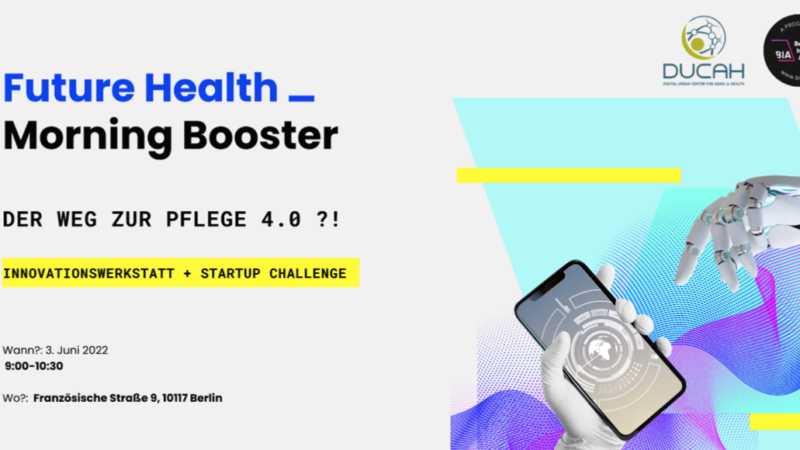 Future Health-Morning Booster
The path to Care 4.0?!
The Digital Urban Center for Aging and Health and the Berlin Innovation Agency invite you to an innovation workshop and start-up challenge on the topic of digitalisation in care. The event will take place in presence on 3 June 2022 from 09:00 to 10:30.
FUTURE HEALTH – MORNING BOOSTER: DER WEG ZUR PFLEGE 4.0?!
Innovationswerkstatt + Startup-Challenge
Freitag, 3. Juni 2022 | 09:00 – 10:30 Uhr
Alexander von Humboldt Institut für Internet und Gesellschaft
Veranstaltung der Berlin Innovation Agency und des Digital Urban Center for Aging and Health (DUCAH)
Hintergrund der Veranstaltung
Das Ehrenamt oder die Erbringung von Betreuungsdienstleistungen im Pflegesektor setzt eine aufwendige Administrationsprozesse voraus. Die Dienstleistungen sollen die Klient*innen im Alltag unterstützen und das Leben vereinfachen, jedoch geht durch die zeitaufwändige Verwaltung viel Effizienz und somit Nutzen für den Leistungsempfänger verloren. Stephanus vor Ort koordiniert Ehrenamtsleistungen und rechnet sie bei den Pflegekassen ab. Der Administrationsaufwand ist enorm, noch immer erfolgt der Großteil manuell per Papier und Stift – und das soll geändert werden!
Ziel der Veranstaltung
Wir starten mit kurzen Impulsen zu Schwierigkeiten der Digitalisierung in der Pflege. Die Teilnehmenden entwickeln gemeinsam Ideen und Lösungsansätze zu verschiedenen Teilaspekten der Problematik. Schnittstellen zwischen Vertretern aus Pflegebranche, Verwaltung, Versicherungsbranche und Startup-Szene werden hergestellt. Was sind zukunftsfähige Geschäftsmodelle, welche Lösungen für komplexe Administrationsprozesse im Gesundheitswesen anbieten?
Teilnahme
Sollten Sie Interesse haben, an der Veranstaltung teilzunehmen, bitten wir Sie Kerstin Bieneck unter bieneck@ieb.net eine Nachricht zu schreiben oder melden Sie sich hier an: Anmeldeformular
Wir freuen uns auf Ihre Teilnahme!
Office Manager, Scientific Coordinator and Stakeholder Management: Digital Urban Center for Aging & Health
This high-profile lecture series thrives to develop a European perspective on the processes of transformation that our societies are currently undergoing.
Once a month we publicly discuss the impact of digitalisation on the society. Therefore we invite special guests and engage in a dialogue with the audience.