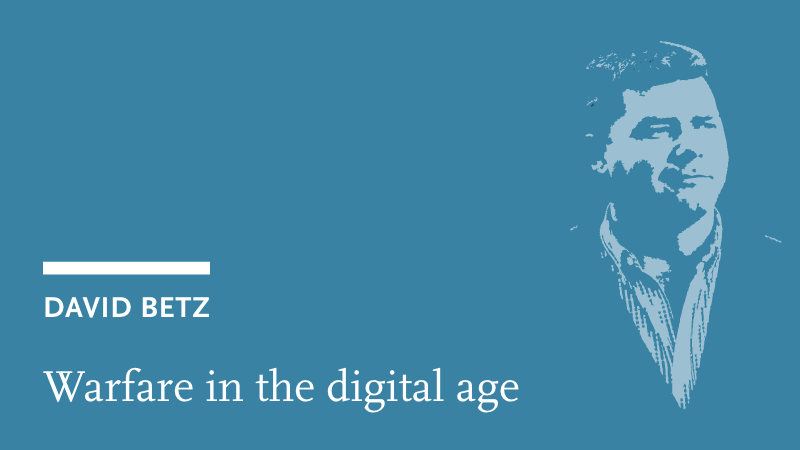 David Betz: Warfare in the digital age
The event will be held in English and simultaneously interpreted into German. In addition, the lecture will be broadcast live from 7 pm. The recorded video will be uploaded to this website a few days after the event.
War does not change in its nature. Warfare, however, mutates constantly. Belligerents are forever adapting to potential new ways and means of war that technological and social change enables. The industrial and scientific revolution massively accelerated the 'machinification' of war, a development which ultimately doomed the European empires. Now, the digital age is here, some say it arrived half a century ago already. What has it changed in the conduct of war?
Since the end of the Cold War there have been many theories to answer this question: Regular war is out! Irregular war is in! Cyberwar is coming! Hybrid war is coming! The current Russo-Ukraine war suggests, though, that these theories are not completely accurate. Warfare in the digital age seems to combine old ways and means with a few new ones in a manner that is proving challenging. This too will be consequential. Perhaps empires are rising and falling again?

David Betz: Warfare in the digital age
Monday 29 August 2022 | 7 pm | Doors open 6:30 pm
Säälchen – Holzmarktstraße 25, 10243 Berlin
Livestream – hiig.de
Bookings
Eine Anmeldung ist für diese Veranstaltung aktuell nicht möglich.
This high-profile lecture series thrives to develop a European perspective on the processes of transformation that our societies are currently undergoing.
Once a month we publicly discuss the impact of digitalisation on the society. Therefore we invite special guests and engage in a dialogue with the audience.