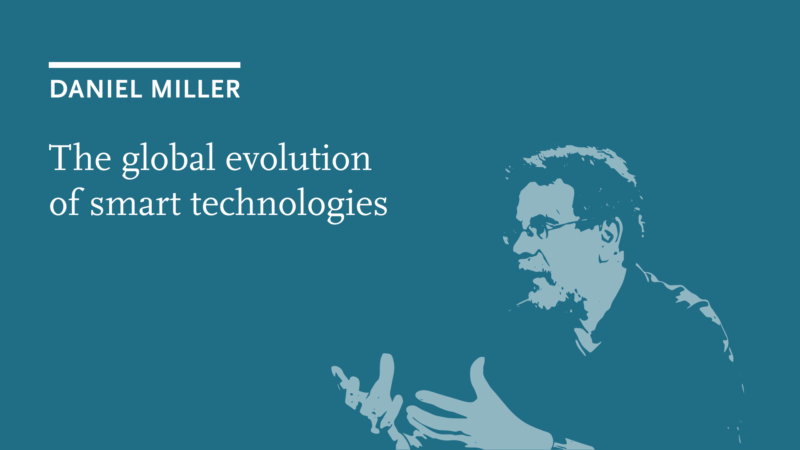 Daniel Miller: The global evolution of smart technologies
The event will be held in English and simultaneously interpreted into German. In addition, the lecture will be broadcast live from 8 pm. The recorded video will be uploaded to this website a few days after the event.
When we talk about technologies such as smartphones we assume that it is the technology that is smart. But who puts the smart into smart digital communication? The answers to this question can be found in the creativity and skill of the populations that use digital platforms, social media or 'intelligent' devices.  Users are often able to transform them into something very different from what companies and developers envisioned when they produced and created them.
In his talk, Daniel Miller will present the results of ten years of ethnographic research on the use of digital media by ordinary populations and their social consequences across the world, from China to Italy and from Uganda to Brazil. He argues that we need scholarly evidence drawn from the everyday lives of people to complement the influence of major academic thinkers. His lecture emphasises the need for respect and empathy for the ingenuity of ordinary people and the ways they appropriate digital technologies.
Daniel Miller: The global evolution of smart technologies
Tuesday, 21 November 2023 | 8 pm | Doors open 7:30 pm
Sauriersaal, Museum für Naturkunde | Invalidenstr. 43, 10115 Berlin
Bookings
Eine Anmeldung ist für diese Veranstaltung aktuell nicht möglich.
This high-profile lecture series thrives to develop a European perspective on the processes of transformation that our societies are currently undergoing.
Once a month we publicly discuss the impact of digitalisation on the society. Therefore we invite special guests and engage in a dialogue with the audience.