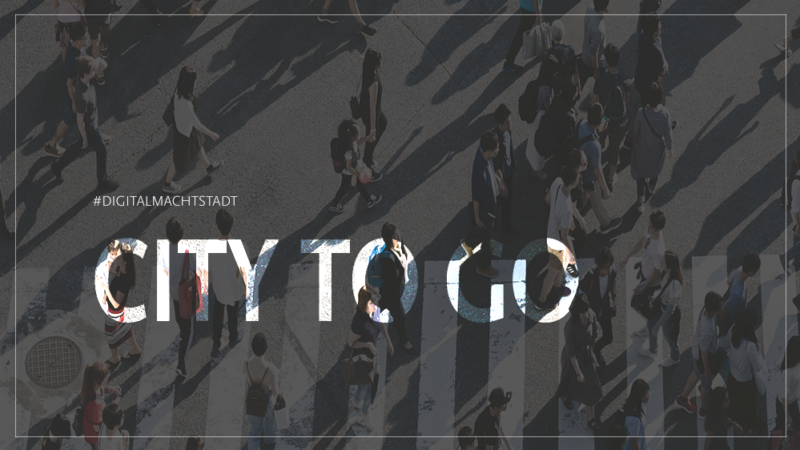 On 15th July, a panel discussion on mobility in the context of digitalisation and open data will take place at the Alexander von Humboldt Institute for Internet and Society (HIIG). The event will take place in German, below you find more detailed information. It is part of the series "digital macht stadt", a cooperation of Hybrid Space Lab and HIIG. 
digital macht stadt – City to Go
Montag, 15.07.2019 | 19:00 Uhr | Einlass ab 18:30 Uhr
HIIG | Französische Straße 9 | 10117 Berlin
Elektroroller auf dem Gehweg, private Autos unterwegs als Taxis und zu wenig Wege für viele Leihräder – in der Stadt von heute und morgen ist Mobilität ein wichtiges Thema und schon jetzt ergeben sich neue Problemfelder. 
Wie werden die Bedürfnisse verschiedener Verkehrsteilnehmer*innen im städtischen öffentlichen Raum ausgehandelt? Zu den klassischen Fortbewegungsformen Auto, Fahrrad, ÖPNV und zu Fuß, kommen zunehmend neue Formen der Mobilität hinzu. Für welche Nutzer*innengruppen werden diese auf digitalen Technologien basierenden Mobilitätsangebote wie Carsharing, Ridesharing, Leihräder und Elektroroller entwickelt? Wenn Digitalisierung mit den Smart-City Technologien eine Effizienzsteigerung mit sich bringen kann, für wen wird hier "optimiert"? Und wem gehören die Daten und Informationen, die dadurch generiert werden und wofür werden sie genutzt? Die Aushandlung von Mobilitätskonzepten ist auch immer eng mit Fragestellungen zur nachhaltigen, sozialen, barrierefreien und gesunden Stadt und zur "Stadt der kurzen Wege" verbunden. Letztendlich geht es um die Frage, in was für einer Stadt wir leben wollen!
Der Moderator Benjamin Knödler (der Freitag) diskutiert u.a. mit:
Die Veranstaltung setzt sich mit dem Themenfeld urbaner Mobilität im Kontext von Digitalisierung und Open Data auseinander. Sie schafft einen Raum für Austausch und Kommunikation zwischen Open Data Expert*innen, Stadtplaner*innen und Architekt*innen, Zivilgesellschaft sowie Mobilitätsforscher*innen und Verwaltung. Sie ist Teil der Reihe digital macht stadt, die als Kooperationsprojekt des Hybrid Space Labs und des Alexander von Humboldt Instituts für Internet und Gesellschaft (HIIG) die aktuellen Entwicklungen an der Schnittstelle von Städten und digitaler Technologie untersucht.
Bookings
Die Veranstaltung ist ausgebucht.
This high-profile lecture series thrives to develop a European perspective on the processes of transformation that our societies are currently undergoing.
Once a month we publicly discuss the impact of digitalisation on the society. Therefore we invite special guests and engage in a dialogue with the audience.