The Barcamp 'Society 2.0' is organised by Wissenschaft im Dialog in cooperation with the Alexander von Humboldt Institute for Internet and Society and Wikimedia Germany. The event takes place in the context of Science Year 2014 "The digital Society". The Science Years are a joint initiative of the Federal Ministry of Education and Research (BMBF) and Wissenschaft im Dialog (WiD) and have been promoting exchange between society and the research community since 2000.
Please note, that the event will be held in German – below you can find the agenda and more detailed information.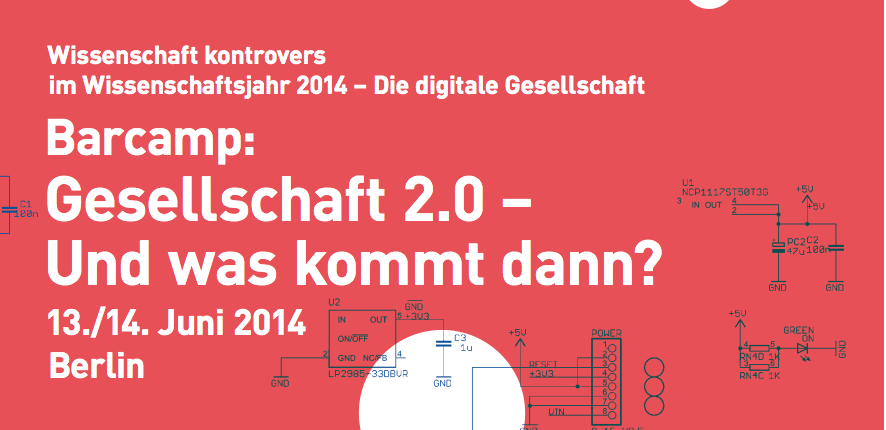 Am 13. und 14. Juni findet das Barcamp 'Gesellschaft 2.0' in der Reihe Wissenschaft kontrovers des Wissenschaftsjahrs 2014 – "Die digitale Gesellschaft" statt. Das Barcamp wird durch das Wissenschanschaftsjahr in Kooperation mit dem Alexander von Humboldt Institut für Internet und Gesellschaft (HIIG) und Wikimedia Deutschland ausgerichtet. Im Zentrum der Tagung stehen die Themen Open Knowledge, Datensicherheit und Crowdsourcing. Was jedoch auf die Tagesordnung kommt bestimmen die Teilnehmer des Barcamps selbst. In einem Impuls Kommentar auf www.wissenschaft-kontrovers.de erklärt HIIG Forscher Prof. Dr. Hendrik Send die Mechanismen von Online-Partizipation, ein Thema das im Zentrum der Tagungs-Diskussion stehen könnte.
Bereits im Vorfeld des Workshops werden Fragen an die Experten gesammelt, um diese während der Veranstaltung in Expertengruppen zu besprechen.
Hier können Sie sich kostenlos für die Tagung registrieren.
Agenda
| | |
| --- | --- |
| Freitag, 13. Juni | 13 – 18 Uhr |
| Samstag, 14. Juni | 10 – 18 Uhr |
Wissenschaft im Dialog
Gemeinsam mit der Nationalen Akademie der Wissenschaften Leopoldina, dem Haus der Wissenschaft Braunschweig und gefördert vom Bundesministerium für Bildung und Forschung organisiert Wissenschaft im Dialog (WiD) bundesweit die Dialogreihe "Wissenschaft kontrovers", in der Bürgerinnen und Bürger auf Augenhöhe mit Expertinnen und Experten diskutieren und ihr Feedback direkt an die Forschung weitergeben.

Die Reihe Wissenschaft kontrovers ist Teil des Wissenschaftsjahrs 2014. Darüber hinaus, veranstaltet das HIIG als Partner des Wissenschaftsjahres drei Sondersendungen des Digitalen Salons.