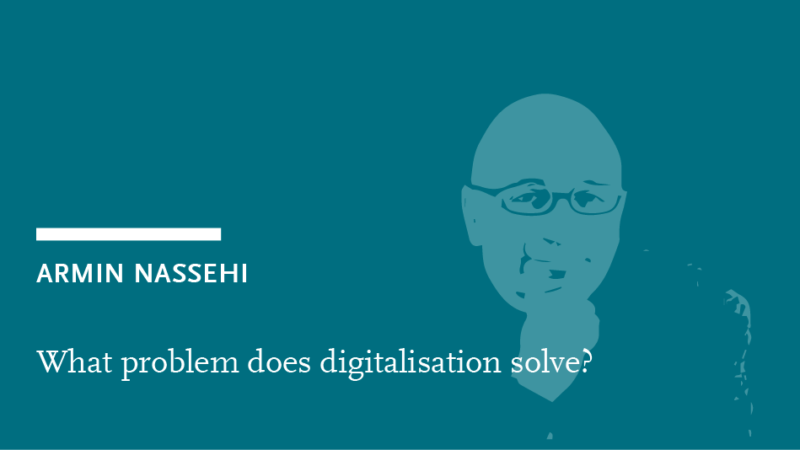 Armin Nassehi: What problem does digitalisation solve?
Digital technology has revolutionised the world in just a few years: our relationships, our work and even the results of elections – everything seems to follow completely different rules. For sociologist Armin Nassehi, a certain technology is only successful if it solves a fundamental problem. So if digitalisation succeeds in unfolding its potential for change, the question is: What problem does digitisation solve? Among other things, the answer will point out that modern society can be called "digital" in a peculiar way even before the advance of computer technology.
Armin Nassehi: What problem does digitalisation solve?
28 August 2019 | 7 pm | doors open 6.30 pm
Säälchen am Holzmarkt | An der Urania 17 | 10787 Berlin
Armin Nassehi is Professor of Sociology at LMU Munich; he researches and teaches in the areas of sociology of culture, political sociology, sociology of religion as well as sociology of knowledge and science. His sociology is mainly based on Niklas Luhmann's systems theory. Nassehi's next book "Muster. Theorie der digitalen Gesellschaft" will be published at the end of August.
Agenda
18:30

  Doors open

19:00 – 19:15

  Welcome and introduction

19:15 – 20:00
  What problem does digitalisation solve?


  Armin Nassehi (LMU Munich)

20:00 – 21:00
  Moderated discussion and questions from the audience

21:00 – 22:00

  Get-together
The event will be held in German and simultaneously translated into English.
For press accreditation, please contact Christian Grauvogel.
This event will be recorded and broadcasted live. By signing up you consent to be photographed, filmed and/or otherwise recorded during the event and to the use of the content in connection with the promotion and public relations of the event.
Making Sense of the Digital Society
The current rapid pace of technological change creates enormous uncertainties – and thus the need for explanations that help us better understand our situation and shape the future. The Alexander von Humboldt Institute for Internet and Society (HIIG) and the Federal Agency for Civic Education (bpb) are therefore continuing the Lecture Series Making Sense of the Digital Society that was launched in 2017. The aim of the format is to develop a European perspective on the current processes of transformation and its societal impact. The first speaker of this year's series was sociologist Eva Illouz, followed by Dirk Baecker, José van Dijck and Louise Amoore.


Registration
The lecture is fully booked. Sign up for our newsletter and be the first to receive an invitation for future events.
Bookings
Die Veranstaltung ist ausgebucht.
This high-profile lecture series thrives to develop a European perspective on the processes of transformation that our societies are currently undergoing.
Once a month we publicly discuss the impact of digitalisation on the society. Therefore we invite special guests and engage in a dialogue with the audience.