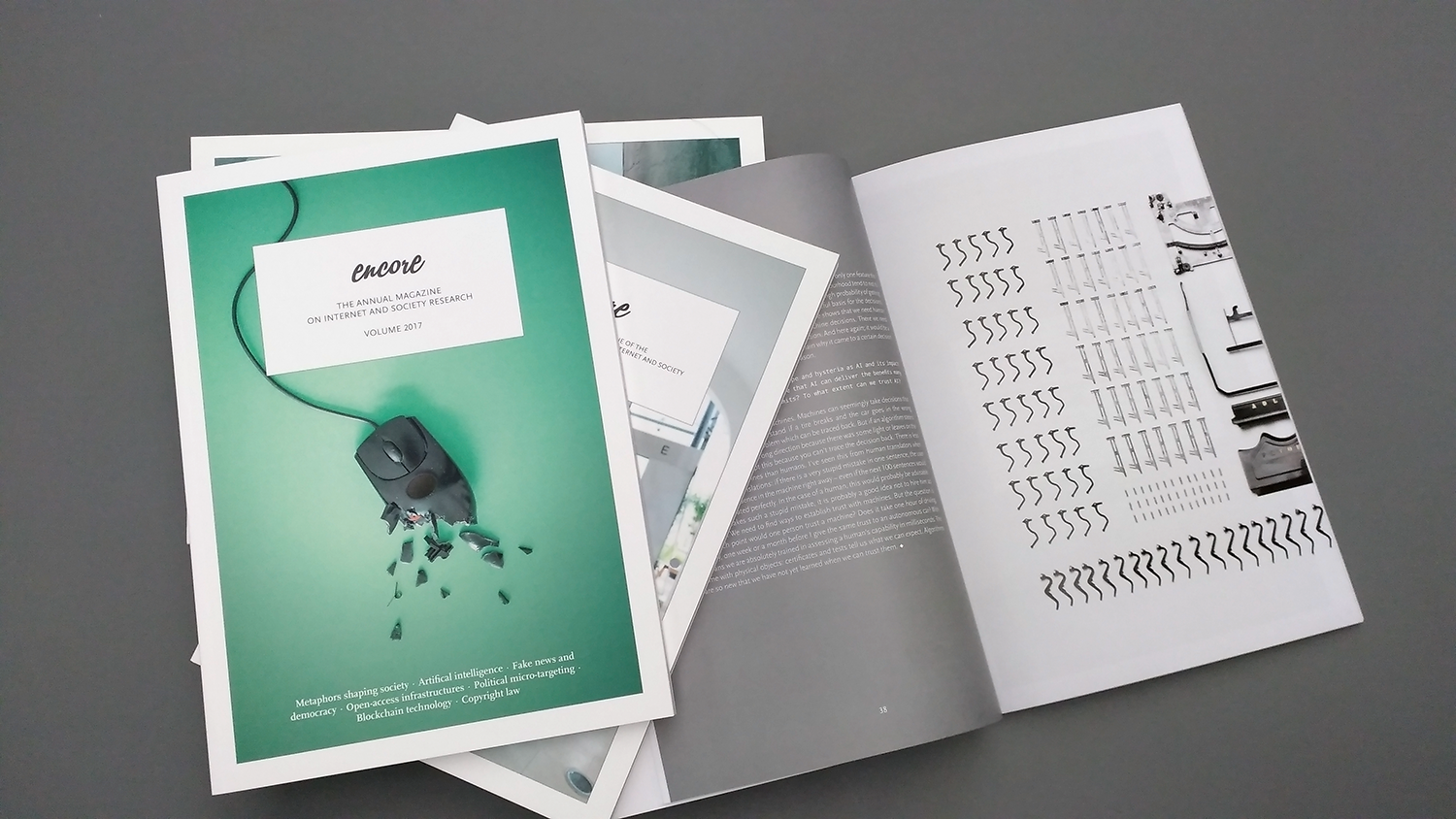 encore is an annual research magazine on internet and society research, published by the Alexander von Humboldt Institute for Internet and Society (HIIG). The magazine features a number of selected articles on relevant topics from throughout the year. Additionally, representatives from science, business and politics share their perspectives on questions around internet and society. encore is completed by HIIG's annual research report.
Current edition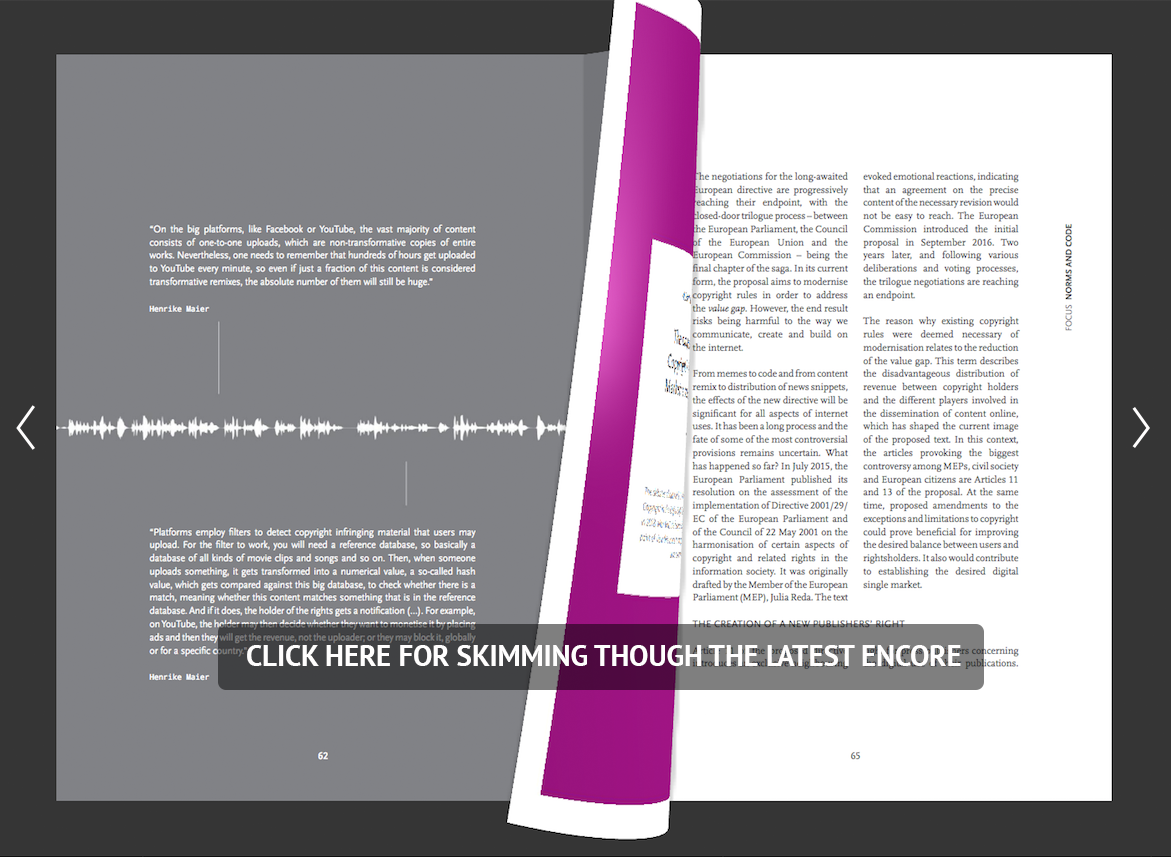 Published so far
MAGAZINE ON INTERNET AND SOCIETY RESEARCH | VOLUME 2018

Articles about Knowledge transfer, Big Data and Nudging, Copyright, Science Policy, Open Access publications, Content Moderation in Social Networks
Interviews: Chelsea Manning, Gerard Meijer und Nick Fowler, Hans Block, Marianne Franklin, Florian Irgmaier

RESEARCH REPORT | VOLUME 2018

Annual Research Report of the HIIG
Abstracts: Hannfried Leisterer, Markus Oermann
List of publications and monitoring of research activities

MAGAZINE ON INTERNET AND SOCIETY RESEARCH | VOLUME 2017

hiig.de/…/encore2018_magazine_digital-small.pdfArticles about Metaphors shaping society, Artifical intelligence, Fake news and Hate speech, Open-Access infrastructures, Copyright law, Internet Infrastructures, Cybersecurity
Interviews: Manuel Castells, Aljoscha Burchardt, Wolfgang Gründinger, Tom Dobber und Natali Helberger, Shermin Voshmgir

RESEARCH REPORT | VOLUME 2017

Annual Research Report of the HIIG
Events: Game Jam, NYU Conference, lecture series, NoC EU Hub
Abstracts: Martina Dopfer, Benedikt Fecher, Maximilian von Grafenstein, Adrian Haase, Rebecca Kahn, Urs Kind, Sebastian Leuschner, Henrike Maier, Jörg Pohle, Robin Tech and Theresa Züger
List of publications and monitoring of research activities

VOLUME 2016

Articles about scientific topics: memes and copyright, Big Data and journalism, Twitter and Brexit, Europe's digital sovereignty
Abstracts of doctoral dissertations by Julian Staben, Martin Wrobel and Christian Katzenbach
Interviews: Scientist Jose van Dijck, entrepreneur Maximilian Viessmann, politician Jan-Philipp Albrecht, re:publica founder Andreas Gebhardt and HIIG-research director Jeanette Hofmann
Events: Long night of the sciences, Lecture series on Big Data, Conference of the Association of Internet Researchers (AoIR)

VOLUME 2015

Articles about scientific topics: digital civil disobedience, internet censorship in Africa, the right to be forgotten, user innovation in the energy market
Interviews: politician Thomas Gambke and lobbyist Andreas Rade; politician Julia Reda; journalist Matthias Spielkamp
Events: Gikii conference in Berlin, travel report from the digital eco system in Chile, Lunch Talk with Peter Thiel

VOLUME 2014

Articles about scientific topics: hacktivism, imitation und innovation in the games sector, path dependency in scientific publishing, financing hardware startupsInterviews: former HIIG fellow Florian Süssenguth, scientist Dame Wendy Hall
Events: workshops on privacy and mass surveillance, symposium Internet Governance

VOLUME 2013

Articles about scientific topics: knowledge society, open hardware, the internet's infrastructure, open government und open science
Interview: blogger and activist Cory Doctorow
Events: Startup Clinics, Burgerbeteiligung, workshop on the future of audio-visual formats, talk about risks and opportunities of social participation, interdisciplinary seminar Everything is a remix
About HIIG
The HIIG researches the development of the internet from a societal perspective with the aim to better understand the digitalisation of all spheres of life.