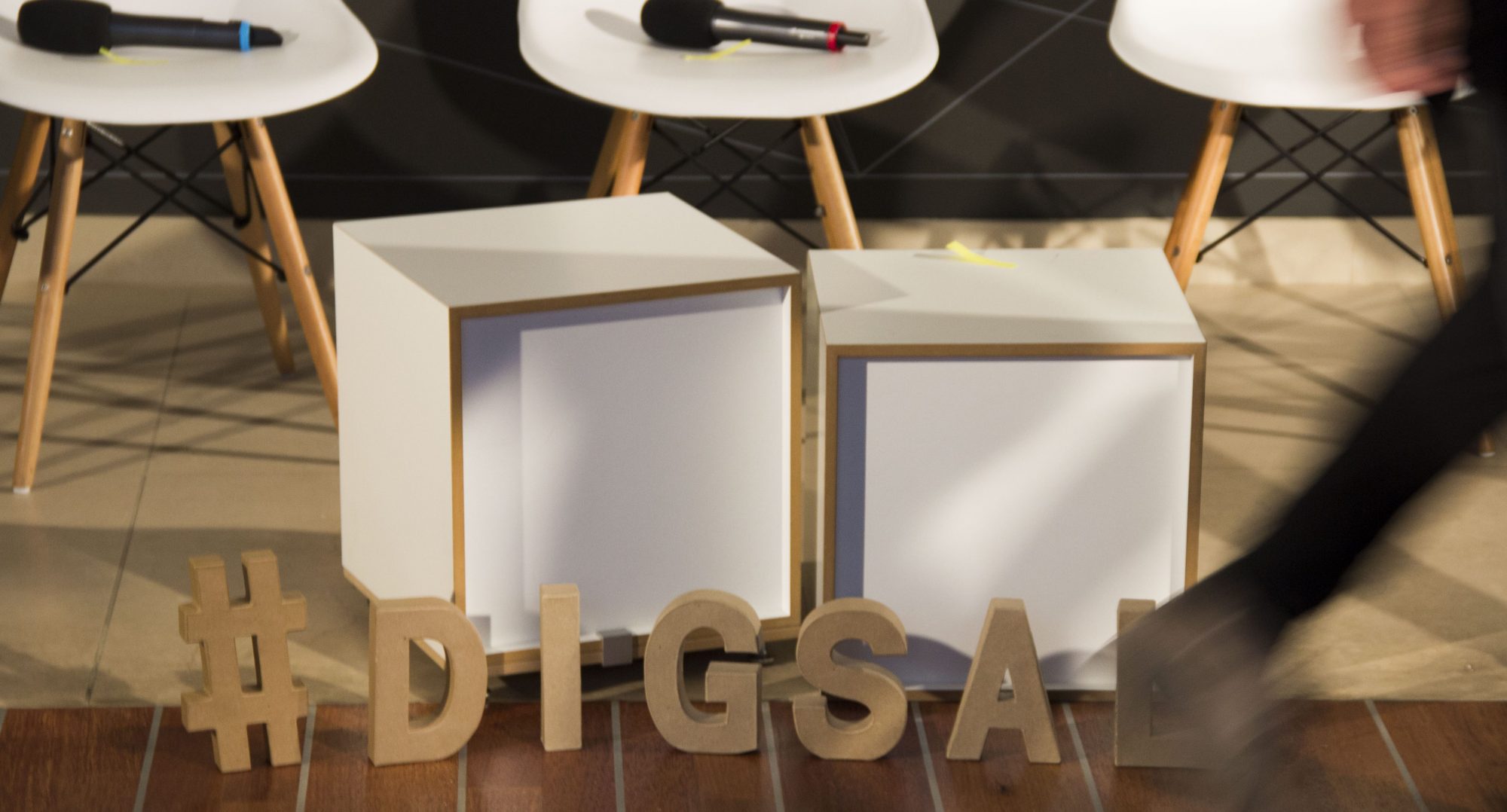 Talk Series: Digitaler Salon
Once a month we publicly discuss the impact of digitalisation on the society. Therefore we invite special guests, engage in a dialogue with the audience and the Twitter-community and finally broadcast it on YouTube.
Please note, that the events will be held in German – you can find more detailed information here. You want to join our next Digitaler Salon? Register here for the newsletter.
Digitaler Salon: Podcast
Join us live or watch online
The Alexander von Humboldt Institute for Internet and Society (HIIG) organises the Digitaler Salon at its own offices every last Wednesday of the month. After the talks, you can have pleasant conversations while enjoying cidre and pretzels.
You can't be physically present? Just watch the live stream on our website. Afterwards all broadcasts will also be published as videos. On Twitter you can find the salon under the hashtag #DigSal. Our media partner is Alex TV Berlin.
You find recordings of past events on the specific page of the event. The Livestream is only available 6.50 pm of the day of the event, on the start page and on the current event page.
Past Events
Date/Time
Event
25.05.2022
18:30 - 20:00
Digitaler Salon: Keeping up with the Gatekeepers
Humboldt Institute for Internet and Society, Berlin
27.04.2022
18:30 - 20:00
Digitaler Salon: Expertise in der Krise
Humboldt Institute for Internet and Society, Berlin
30.03.2022
18:30 - 20:00
Digitaler Salon: Unable to Reconnect
Humboldt Institute for Internet and Society, Berlin
24.11.2021
18:30 - 20:00
Digitaler Salon: Digital Society - Nerds Only?
Humboldt Institute for Internet and Society, Berlin
27.10.2021
18:30 - 20:00
Digitaler Salon: Digital Hell's Care?
Humboldt Institute for Internet and Society, Berlin
30.09.2021
19:00 - 20:00
Digitaler Salon: Machine Gun Learning
Humboldt Institute for Internet and Society, Berlin
25.08.2021
19:00 - 20:00
Digitaler Salon: Cookies make you lose control
Humboldt Institute for Internet and Society, Berlin
28.07.2021
19:00 - 20:00
Digitaler Salon: Plattformen im Konflikt
Humboldt Institute for Internet and Society, Berlin
30.06.2021
19:00 - 20:00
Digitaler Salon: Lost in Regulation
Livestream, Berlin
26.05.2021
19:00 - 20:00
Digitaler Salon: Click Chat Love
Livestream, Berlin
28.04.2021
19:00 - 20:00
Digitaler Salon: Vom Fließband zur KI
Livestream, Berlin
31.03.2021
19:00 - 20:00
Digitaler Salon: KI – Die Letzte räumt das Internet auf
Livestream, Berlin
24.02.2021
19:00 - 20:00
Digitaler Salon: Schulicon Valley
Livestream, Berlin
27.01.2021
19:00 - 20:00
Digitaler Salon: Das zoomende Klassenzimmer
Livestream, Berlin
25.11.2020
19:00 - 20:00
Digitaler Salon: Steckt eine "App" in happiness?
Livestream, Berlin
28.10.2020
19:00 - 20:00
Digitaler Salon: Swipe for President
Livestream, Berlin
30.09.2020
19:00 - 20:00
Digitaler Salon: Der Fall der Paywall
Humboldt Institute for Internet and Society, Berlin
26.08.2020
19:00 - 20:00
Digitaler Salon: The troll next door
Livestream, Berlin
29.07.2020
19:00 - 20:00
Digitaler Salon: Diskriminierung vorprogrammiert?
Humboldt Institute for Internet and Society, Berlin
24.06.2020
19:30 - 20:30
Digitaler Salon: Technik hautnah
Humboldt Institute for Internet and Society, Berlin
27.05.2020
19:30 - 20:30
Digitaler Salon: Data Kolumna
Livestream, Berlin
29.04.2020
19:30 - 20:30
Digitaler Salon: Digital ist man weniger allein?
Livestream, Berlin
25.03.2020
18:30 - 19:30
Livestream only: Digitaler Salon – Grün hinter dem Bildschirm
Livestream, Berlin
26.02.2020
18:30 - 21:00
Digitaler Salon: Faster, harder, E-Scooter?
Humboldt Institute for Internet and Society, Berlin
29.01.2020
18:30 - 21:00
Digitaler Salon | Essen auf Rädern
Humboldt Institute for Internet and Society, Berlin
27.11.2019
18:30 - 21:00
Digitaler Salon: The Hashtag is Alt-Right
Humboldt Institute for Internet and Society, Berlin
30.10.2019
18:30 - 21:00
Digitaler Salon: Score me maybe?
Humboldt Institute for Internet and Society, Berlin
25.09.2019
18:30 - 21:00
Talk | Digitaler Salon: Beep, beep, wir haben uns alle lieb
Humboldt Institute for Internet and Society, Berlin
29.08.2019
18:30 - 21:00
Talk | Digitaler Salon: Hashtag e.V.
Humboldt Institute for Internet and Society, Berlin
31.07.2019
18:30 - 21:00
Talk | Digitaler Salon: In dubio pro Data
Humboldt Institute for Internet and Society, Berlin
Guests of the Digitaler Salon
To discuss the effects of digitalisation on our society, we are seeking discussions with selected personalities of our time. Below you will find a selection of guests from politics, science, media, business and civil society who have already debated in the Digitaler Salon:
Julian Adenauer, creative engineer, director Retune Festival
Markus Beckedahl, network policy activist and journalist, netzpolitik.org
Miriam Davoudvandi, journalist, podcast "Danke, gut."
Arno Deister, Chief Physician of the Centre for Psychosocial Medicine of the Itzehoe Hospital and President of the German Society for Psychiatry and Psychotherapy, Psychosomatics and Neurology
Anke Domscheit-Berg, entrepreneur, publicist and activist, Refugee Hackathon
Jörg Dräger, Member of the Executive Board, Bertelsmann Stiftung
Maria Exner, Deputy Chief Editor, ZEIT ONLINE
Andreas Gebhard, founder and managing director, re:publica
Juna Grossmann, blogger, irgendwiejuedisch.com
Lea Gscheidel, Undertaker, Re.Designing Death Movement
Matthias Heeder, documentary filmmaker, PreCrime
Lorena Jaume-Palasí, co-founder and managing director, AlgorithmWatch
Martin Kohlstedt, producer and musician
Katika Kühnreich, political scientist and sinologist
Constanze Kurz, computer scientist and speaker, Chaos Computer Club
Daniel Moßbrucker, Speaker for Internet Freedom, Reporters without Borders
Tarik Tesfu, video blogger, Tarik's gender crisis
Jan-Hendrik Olbertz, former President of the Humboldt University of Berlin
Sophie Passmann, author & radio presenter
Haya Shulman, Head of Department Cybersecurity Analytics and Defences, Fraunhofer SIT