Digital Innovation: Intelligent waste disposal through a smartphone app
Digitalisation brings new opportunities and growth potential, especially for the German Mittelstand. What kind of activities and strategies are pursued when it comes to digital innovation by mid-sized companies? What are the different approaches and how do success stories look like? In order to shed more light on these issues we analyze different companies and their approach to digital innovation. The following case is part of the "Digital Innovation in German mid-sized businesses" study, which will be published in 2019.
emz-Hanauer develops and produces components and sensors for the home appliance industry. With more than 1.000 employees worldwide, emz is dedicated to the topic of intelligent waste disposal and Smart City. In this digitization project, the family-owned company used agile methods to improve an existing system for access control of waste containers by using a smartphone app accessible to everyone.
Durch die breite Nutzung von Smartphones müssen Prozesse vollkommen neu gedacht und zum Vorteil von allen beteiligten Parteien verbessert werden
"Es ist extrem wichtig, dass das Projektteam seinen eigenen Raum, sein eigenes Umfeld hat, in dem es sich frei bewegen kann."
– Thomas Hanauer, Geschäftsführer emz-Hanauer
Bereits seit vielen Jahren bietet emz-Hanauer Systeme an, die den Zugang zu großen Müllcontainern kontrollieren. Container, die mit einem solchen System nachgerüstet wurden, können nur mit einem elektronischen Schlüssel geöffnet werden. Zudem wird über eine mechanische Müllschleuse geregelt, wie viel Abfall in den Container gegeben wird. Die Daten zum Abfallvolumen werden genau erfasst, und die NutzerInnen zahlen nur für die Menge, die sich tatsächlich im Container befindet. Das System setzt also Anreize für die Müllvermeidung.
Eben genau dieses System wurde digitalisiert, indem ein Großteil der bisherigen Funktionen, wie zum Beispiel der elektronische Schlüssel oder der Rechnungsversand, auf eine App für Smartphones übertragen wurde.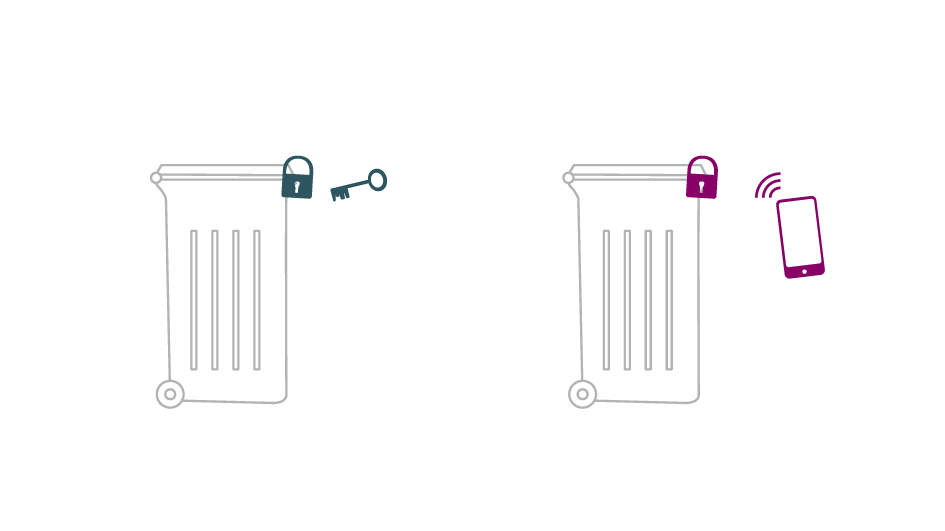 Thomas Hanauer, Geschäftsführer der emz-Hanauer, bringt einen zentralen Vorteil der digitalen Lösung auf den Punkt: "Der Hardwareanteil unseres Angebots wurde drastisch reduziert – damit sinken auch die Investitionskosten für unsere KundInnen". Das neue System stiftet darüber hinaus einen Zusatznutzen für die Entsorgungsbetriebe: "Zum Beispiel können jetzt KundInnen vor Ort sehr simpel auf der App melden, wenn es irgendeine Störung gibt – die Mülltonne ist verbogen, der Deckel ist gebrochen oder es liegt überall Dreck herum. Einfach ein Foto machen und automatisiert versenden. Das ist sehr einfach und ein Riesenvorteil für die Entsorgungsbetriebe."
Ein weiterer Vorteil für die Entsorgungsbetriebe ist, dass sie nun eine Routenplanung auf der Grundlage der neuen Daten machen können. Denn sie wissen jetzt, wie viel Müll sich im jeweiligen Container befindet. Damit eröffnen sich für das mittelständische Unternehmen ganz neue Geschäftsmodelle jenseits des klassischen Hardwaregeschäfts. Und es erschließen sich neue und größere KundInnengruppen. So positioniert sich emz-Hanauer mit seinem digitalen Angebot im Smart City-Sektor und wird damit relevant für Städte wie London, Singapur oder Dubai.
Agile Methoden als Auslöser für Innovationen und neue Denkweisen
Das gesamte Projekt wurde im Frühjahr 2017 gestartet und mit agilen Methoden umgesetzt. Dazu wurde ein heterogenes Team aus MitarbeiterInnen als ein "internes Startup" mit vielen Freiheiten ausgestattet. Das experimentelle und stark kundenorientierte Vorgehen hielt auch die Anfangsinvestitionen niedrig.
"Wir haben bisher fast kein Geld investiert, nur Arbeitszeit. Die Gruppe hat am Anfang erst einmal nur eine Pappschachtel gebaut mit dem Standardschloss, das wir schon hatten. Da hat sie das erste Mal mit KundInnen geredet. Das zweite war ein kurzes Filmchen, eine Animation. Mit der hat die Gruppe wieder verschiedene KundInnen besucht. Das waren im Wesentlichen Entsorgungsbetriebe und Kommunen. Mit dem Feedback haben wir weitergearbeitet. Erst dann haben wir einen Prototypen bauen lassen, und der hat uns um die 25.000 Euro gekostet", so Thomas Hanauer. Das Digitalisierungsprojekt hatte positive Auswirkungen auf die gesamte Innovationskultur des Unternehmens. "Plötzlich fängt man anders an zu denken", stellt Hanauer fest.
Inzwischen arbeiten bei emz-Hanauer mehrere agile Projektteams parallel an weiteren Innovationsprojekten. Diese Lernerfahrungen aus dem Projekt kann emz-Hanauer an andere Mittelständler weitergeben. Zu den Lernerfahrungen bei emz-Hanauer zählen laut Thomas Hanauer folgende Punkte:
Keine Scheu haben vor externer Unterstützung. "Methoden wie die Customer Value Proposition Map muss man auch beherrschen. Da muss man sich jemanden holen, der einen unterstützt, der Überzeugung bin ich."
Genügend Freiräume für das interne Innovationsteam ermöglichen. "Es ist extrem wichtig, dass das Projektteam seinen eigenen Raum, sein eigenes Umfeld hat, in dem es sich frei bewegen kann."
Frühzeitige zentraler Kompetenzträger einbinden. "EntwicklerInnen und Leute, die am Schluss im Markt aktiv sind, sollten von vornherein Teil des Projektteams sein".
Kundenorientierung im Innovationsprozess ernst nehmen. "Wenn man mal anfängt, die KundInnen richtig intensiv zu befragen: Was macht das Produkt für dich? Was nervt dich daran? Was glaubst du, was du gerne hättest? Dann lernt man plötzlich ganz neue Aspekte kennen, von denen man total überrascht ist, auch wenn man in einem Markt schon seit Jahrzehnten aktiv ist".
The study is being conducted by HIIG and Sirius Minds and is supported by HypoVereinsbank. Are you interested in receiving the publication "Digital Innovation in German mid-sized businesses" upon release in early 2019? Fill out the form below and subscribe to our newsletter:
This post represents the view of the author and does not necessarily represent the view of the institute itself. For more information about the topics of these articles and associated research projects, please contact info@hiig.de.
Sign up for HIIG's Monthly Digest
and receive our latest blog articles.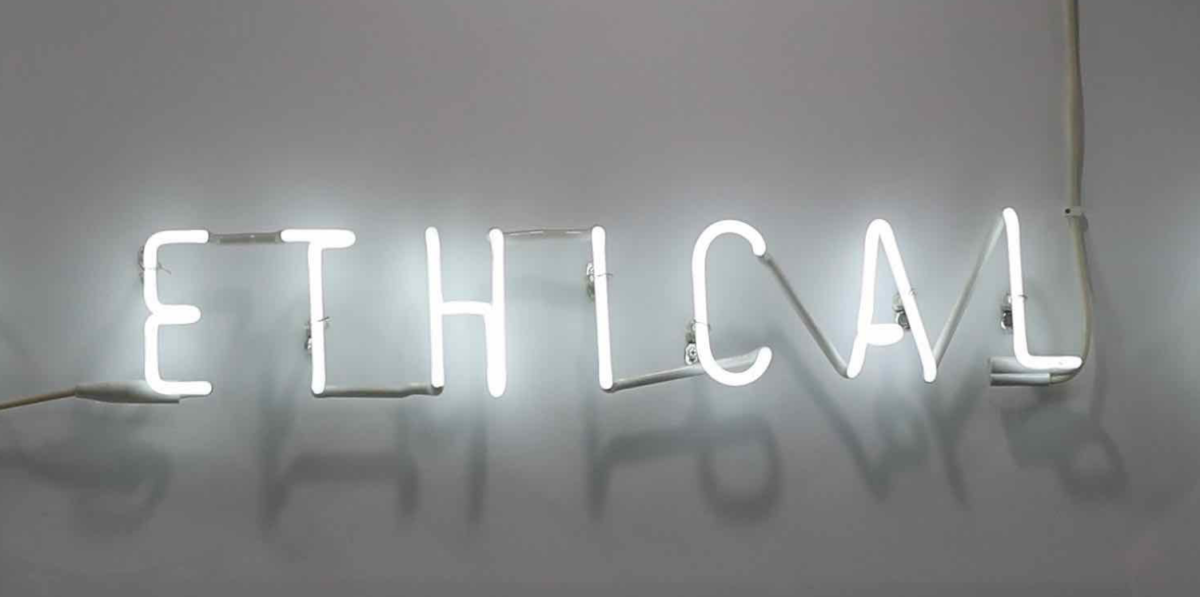 Whether civil society, politics or science – everyone seems to agree that the New Twenties will be characterised by digitalisation. But what about the tension of digital ethics? How do we create a digital transformation involving society as a whole, including people who either do not have the financial means or the necessary know-how to benefit from digitalisation?  And what do these comprehensive changes in our actions mean for democracy? In this dossier we want to address these questions and offer food for thought on how we can use digitalisation for the common good.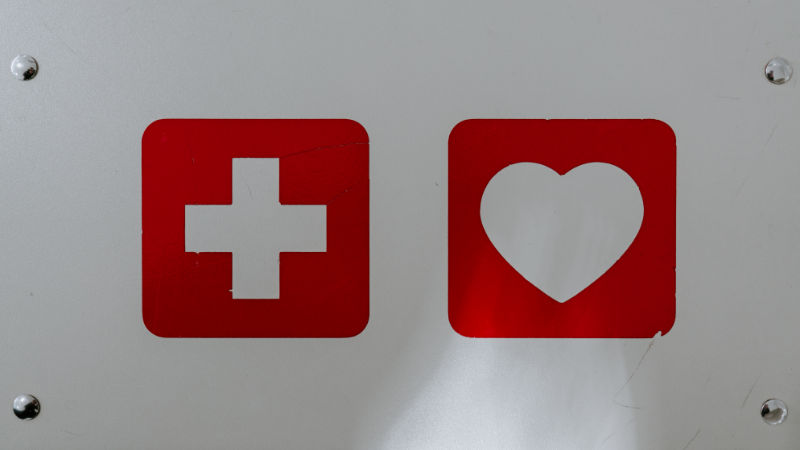 Personal data is particularly sensitive and worthy of protection in the health and care sector. What could good data governance look like here?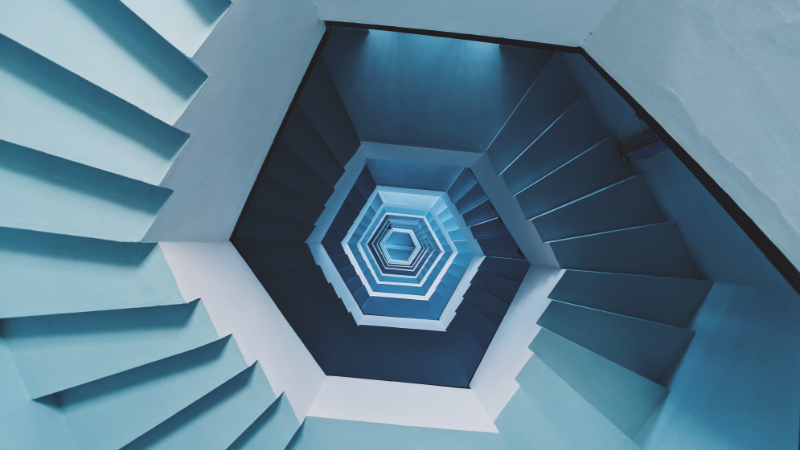 Considering the dynamics and processes related to the digitalization of the strategy making process results in a shift from digital strategy to digital strategizing. What's behind the concept?