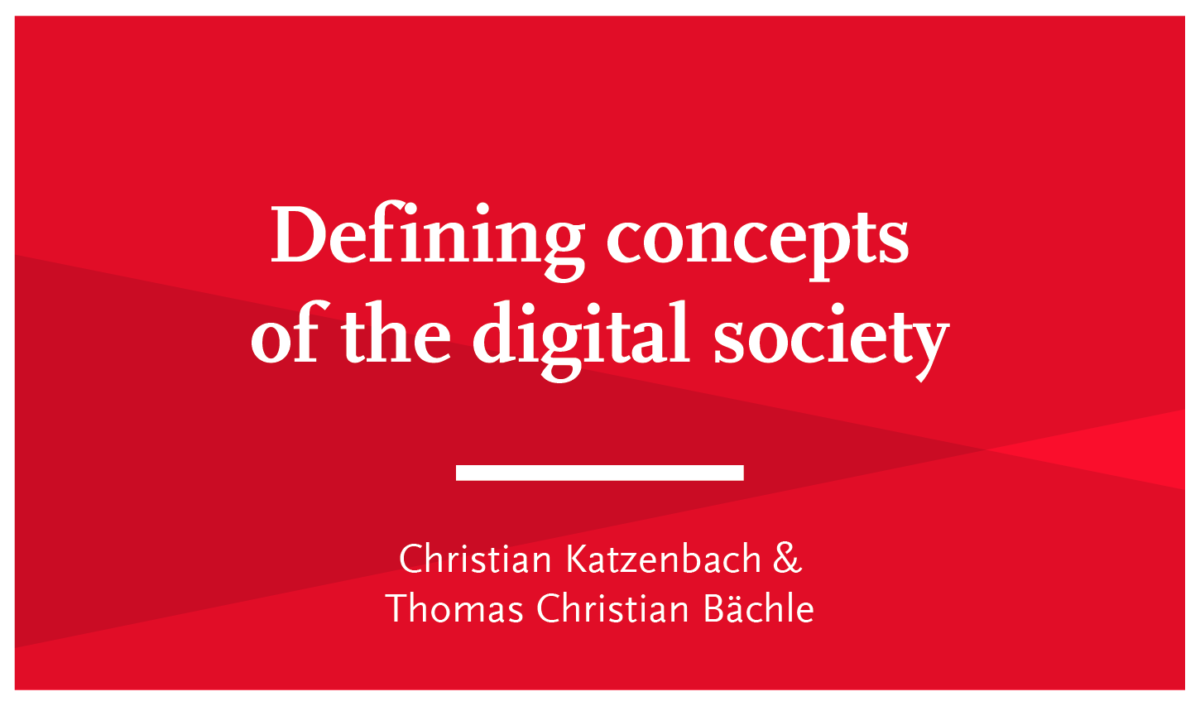 Defining concepts of the digital society
At a time when branding new, occasionally innovative but often only catchy terms has become a familiar activity of researchers, companies and policymakers alike, it is necessary to reflect on which of these concepts is actually worthwhile, provides analytic value and in effect describes something new. This new special section Defining concepts of the digital society seeks to foster a platform that discusses and validates these overarching frameworks and theories. Based on the latest research, yet broad in scope, the contributions offer effective tools to analyse the digital society. Their authors offer concise articles that portray and critically discuss individual concepts such as algorithmic governance, datafication, platformisation, privacy with an interdisciplinary mindset.
Learn more about the publication and the editors and read the editorial by Christian Katzenbach and Thomas Christian Bächle.
The concepts
| | |
| --- | --- |
| | Algorithmic governance means that digital technologies order and regulate the social in specific ways. Will this development lead to opacity, a loss in human agency and the muting of political debate? |
| | Datafication refers to the quantification and often accompanying monetisation of human life through digital information. How is this process connected to capitalism? What does datafication mean for the relationship between power and knowledge? |
| | The concept of the filter bubble seems plausible and enjoys considerable popularity in public and policy discourse, yet research shows little evidence that the phenomenon even exists. Should we dismiss it altogether? |
| | Platformisation today seems to be everywhere: from media to mobility, from housing to health. Why have platforms become the dominant mode of organisation and imagination in the digital society? |
| | Privacy has always been an ambivalent concept, at the intersection of protection, (de-)politicisation and individual rights. But things get even murkier in digital societies: how should we rethink privacy and to what degree are its core values under threat? |
About HIIG
The HIIG researches the development of the internet from a societal perspective with the aim to better understand the digitalisation of all spheres of life.
Keep in touch
Would you like to receive the latest news on internet and social research? Subscribe to our newsletters.