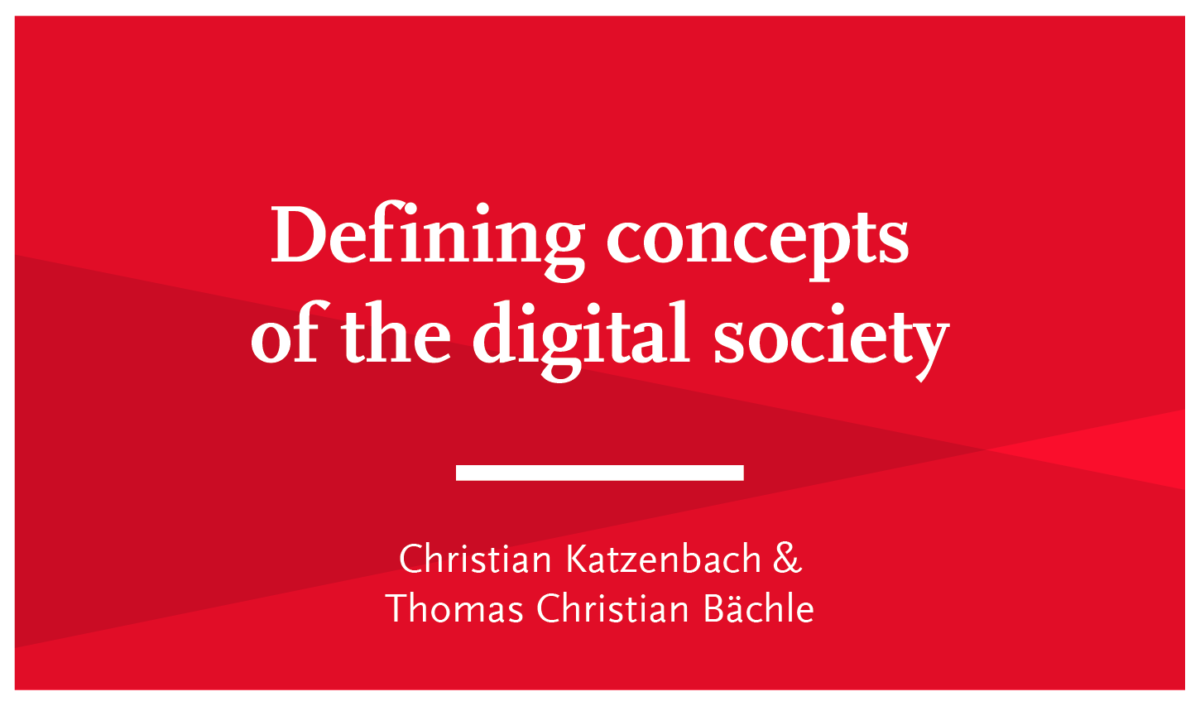 Defining concepts of the digital society
At a time when branding new, occasionally innovative but often only catchy terms has become a familiar activity of researchers, companies and policymakers alike, it is necessary to reflect on which of these concepts is actually worthwhile, provides analytic value and in effect describes something new. This new special section Defining concepts of the digital society seeks to foster a platform that discusses and validates these overarching frameworks and theories. Based on the latest research, yet broad in scope, the contributions offer effective tools to analyse the digital society. Their authors offer concise articles that portray and critically discuss individual concepts such as algorithmic governance, datafication, platformisation, privacy with an interdisciplinary mindset.
Learn more about the publication and the editors and read the editorial by Christian Katzenbach and Thomas Christian Bächle.
The concepts
Transparency is one of the most important expectations towards the otherwise opaque artificial intelligence. How can it be achieved? How do the calls for transparency shape the debates on AI ethics and regulation?

Ranging from datafied cities to speakers with voice assistants: many technologies today are referred to as 'smart'. But what exactly lies behind this attribute? How powerful is their agency - and to what degree do they limit or extend human agency?

Algorithms are never neutral. There is always the risk that they amplify social inequalities. How can we avoid this? How can algorithmic bias be uncovered and how can we design new technologies in a way that they account for essential values?

Digital commons such as Wikipedia and free software are produced by collectives, rather than by companies or nation states. But what does it mean to organise data and platforms in collective ways? And can it help to promote equitable access in the digital society?

Digital sovereignty has become a key strategic goal of many countries and collectives. But what does this self-determination mean in the digital context? And will it accelarate the fragmentation of the internet?


Learn more

Cybersecurity covers the broad range of technical and social issues that must be considered to protect networked information systems. Why has this concept become disconnected from social science notions? How did the concerns of inappropriate cyber securitisation arise?
| | |
| --- | --- |
| | Decentralisation as a concept is attracting a lot of interest, not least with the rise of decentralised and distributed techno-social systems like Bitcoin, and distributed ledgers more generally. In this paper, we first define decentralisation as it is implemented for technical architectures and then discuss the technical, social, political and economic ideas that drive the development of decentralised, and in particular, distributed systems. |
| | Algorithmic governance means that digital technologies order and regulate the social in specific ways. Will this development lead to opacity, a loss in human agency and the muting of political debate? |
| | Datafication refers to the quantification and often accompanying monetisation of human life through digital information. How is this process connected to capitalism? What does datafication mean for the relationship between power and knowledge? |
| | The concept of the filter bubble seems plausible and enjoys considerable popularity in public and policy discourse, yet research shows little evidence that the phenomenon even exists. Should we dismiss it altogether? |
| | Platformisation today seems to be everywhere: from media to mobility, from housing to health. Why have platforms become the dominant mode of organisation and imagination in the digital society? |
| | Privacy has always been an ambivalent concept, at the intersection of protection, (de-)politicisation and individual rights. But things get even murkier in digital societies: how should we rethink privacy and to what degree are its core values under threat? |
| | Artificial emotional intelligence refers to technologies that perform, recognise, or record affective states. More than merely a technological function, however, it is also a social process whereby cultural assumptions about what emotions are and how they are made are translated into composites of code, software, and mechanical platforms that operationalise certain models of emotion over others. |
| | The term surveillance is several centuries old. It has been modified over time to fit new circumstances. Today, when surveillance has become part of the very infrastructure of contemporary societies, the task of understanding and updating the concept of surveillance is more important than ever. |
| | For contemporary societies, digital democracy provides a key concept that denotes, in our understanding, the relationship between collective self-government and mediating digital infrastructures. |
| | The concept of data justice has been used to denote a shift in understanding of what is at stake with datafication beyond digital rights. This essay speaks to different interpretations of the substance of data justice (ontology), who it applies to (scope), and how it should be upheld (procedure). |
About HIIG
The HIIG researches the development of the internet from a societal perspective with the aim to better understand the digitalisation of all spheres of life.
Keep in touch
Would you like to receive the latest news on internet and social research? Subscribe to our newsletters.
OPEN EDUCATIONAL RESOURCE
HIIG is continuously developing a wide range of OER, including a lecture series, a future thinking toolkit and several games.